Spring Cleaning the Business District
April 24, 2018 @ 12:00 am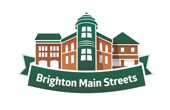 Join us as we give the Brighton Main Streets business district (Oak Square to St. Elizabeth's Medical Center) a thorough spring cleaning.
We provide gloves and trash bags; you provide the elbow grease! You will receive further instructions & your assignment via email after signing up.
We'll be starting in the afternoon, but feel free to come out after work. This event is rain or shine. Preferably shine! Meet at the Brighton Main Streets
office.
<h</h