Public Space and Beautification Committee Open House
February 28, 2018 @ 12:00 am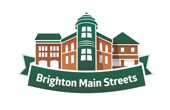 Our Public Space and Beautification Committee is recruiting new members! Current members include Brighton residents and local business owners who are interested in improving the physical landscape of the Main Streets district.
Potential projects include grants to businesses to improve their storefronts and signage, as well as streetscape improvements such as murals, lightpole
banners, wayfinding signage, planters and more.
All are welcome, but we could especially use new members with expertise in urban planning, architecture, preservation, and landscaping.