Community Meeting
January 18, 2017 @ 12:00 am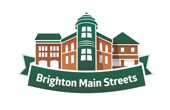 Presentation School Foundation (PSF) Community Center, 640 Washington Street, Brighton MA 02135
Brighton Main Streets has been spearheading a gateway signage and wayfinding kiosk signage project for the Brighton business district. The project is currently
in the design phase and we are hosting community meetings to get feedback from the neighborhood. We will be releasing preliminary design concepts at
the community meetings held on Jan 5th and Jan 18th.

In 2015, Brighton Main Streets received a $100,000 grant from the Boston College Neighborhood Improvement Fund to install gateway signage and a wayfinding
kiosk in our district. The gateway signage will beautify the Brighton business district and will help make the neighborhood an identifiable destination.
The wayfinding kiosk in Brighton Center will help residents and visitors navigate the shopping district and raise awareness about local events with
a community calendar.