Brighton Sounds: Chris Fitz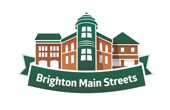 "Fitzy's Back Porch Hoedown"
Open Jam, Chris Fitz and Steve Dineen
Chris Fitz is one of the premier blues guitarists in New England. A native New Englander, he spent five years in San Francisco in the early '90s, playing
the Bay Area clubs before moving back to Boston. Since 2002, The Chris Fitz Band has received more than a dozen music awards, including a 2002 Boston
Music Award and the 2005 Boston Blues Challenge Winners Award, among others. The band has several award-winning CDs, and releases a new album earlier
this year.