Shop Small Challenge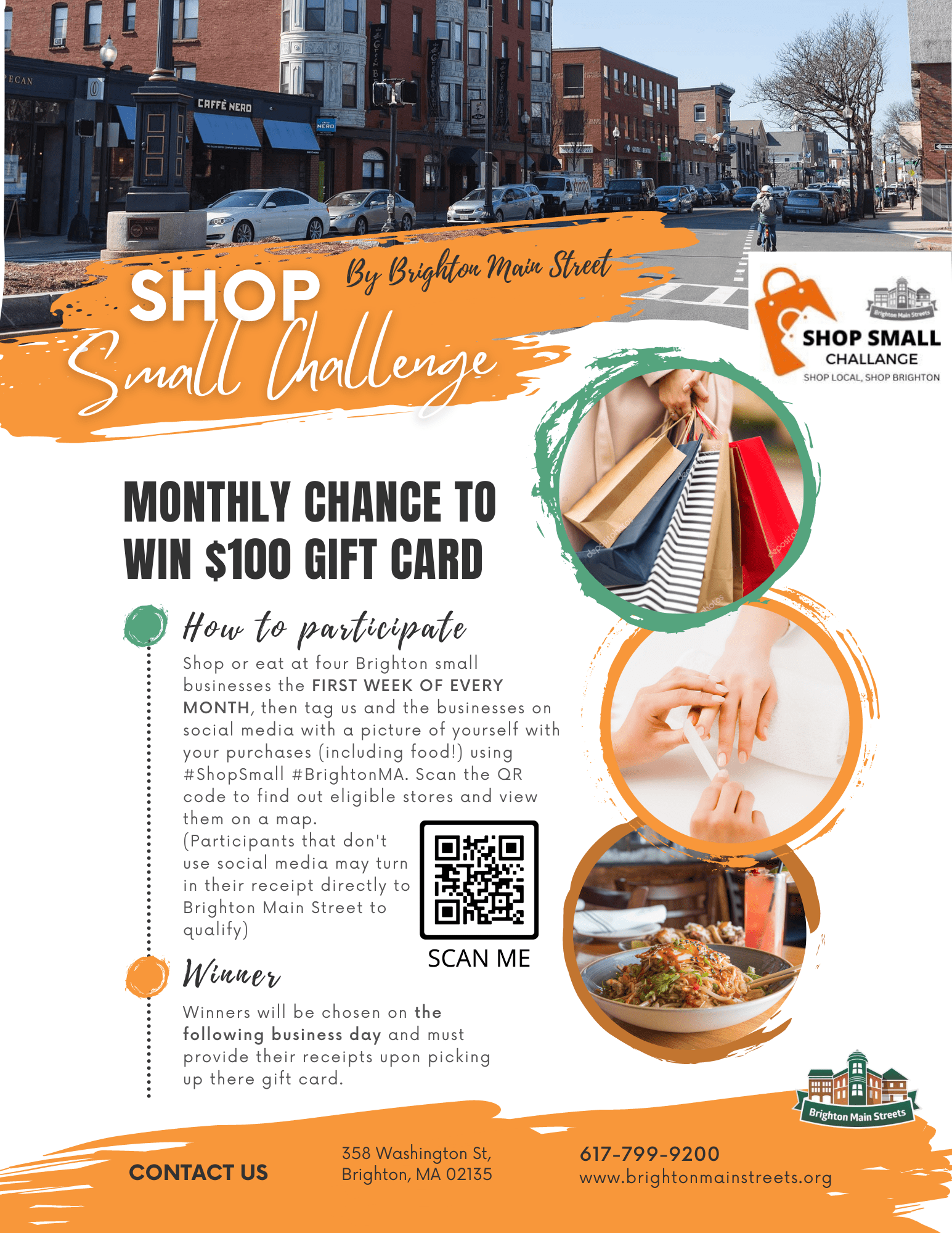 Shop or eat at four Brighton small businesses the first week of every month then tag BMS and the business on social media with a picture of yourself and your purchase ( including food!) using #Shopsmall #BrigthtonMA.
Participants who don't use social media may turn in their receipts directly to the Brighton Main Street office to qualify.
The Brighton Main Street office is located at 358 Washington Street.
8 Pizza
Alex the Tailor
All Brands Corp.
Amanda's Flowers
Athan's European Bakery
Beautie Addicts
Beef and Turkey
Beijing Taste
Blow Out Hair Design
Blue Yama
Boston Threading Salon
Brick House Pizza and Grill
Brighton Bodega
Brighton Gourmet and Cellar
Brighton Laundry/Dry Cleaners
Brighton Lock and Hardware
Brighton Nails
Café Mirror
Cafenation
Candy's Cake
Center Salon
Charming Nails and Spa
Cigars & More
City Tails

Classic Barber Shop
Cleo Hair Salon
Corrib Pub & Restaurant
Dana's Nail Salon
Daniels Bakery
Dash Café
Devlin's Restaurant
Dorrs Liquor Market
Energize
Ensueno Body and Skin Care
Esperia Grill
Europe Today Furniture
Fiorella's Express
Fratello's Kebab & Souvlaki
Ghost in the Machine Tattoo
Glasser Coffee co
Greenhouse Kitchen
Hair Garden Salon
Hoshi Ya Japanese Rest
Jim's Deli
Johnny D's Produce
Last Drop
Lessard's Barber Shop
Little Pecan Bistro
Little Pizza King
Lo & Hana Fashion
Loretta's Hair Design
Los Amigos Taqueria
Lotus Beauty Nails and Spa
LR Barber Shop Salon
Mantra Dhevi Spa
Matt's Barber Shop
MDM Noodles
Michael's Hair Cutting for Men
Milan Laser Hair Removal
Miyuki Sushi
New Hong Kong Chinese Food
Nearly New Thrift Shop
Oak Sq. Liquors
One To One Energy
Palace Spa
Paris Nails & Spa
Peka Restaurant
Performance and Recovery
Phil's Hair Design
Pizza Etc.
Porter Belly's
Queen Bee Nails and Spa
Sam's Tailor and Dry Cleaning
South of the Clouds
Teresa Market
Thai North
The 34 Barber Shop
The Corner Art Room
The Last Drop
The Scoop and Scootery
Tho's Upholstery
Thonglor
Tina's Hair Salon
Vivi Bubble Tea
Walsh Liquor Store
Wok n Talk
Yes! Nails
Zen Zone Spa
Ziggy's
Zisis Convenience