Mask-erade Digital Cocktail Hour
November 6, 2020 @ 12:00 am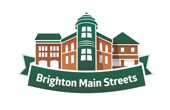 Join the Celebration
The year 2020 has proven to be a challenge for all of us in so many ways. But we've pulled together through it all, and that's reason to celebrate.
Embracing all 2020 has given us, we're hosting a celebration: Brighton Main Streets' 2020 Mask-erade! Digital Cocktail Hour.
We may be physically distant, but we are socially united. So we're bringing the party to your living room this year, with this digital cocktail
hour.
We are proud to say that Brighton Main Streets has met each challenge this year full on as our work and impact is as critical as it has ever been. We hope
you will join us for our Mask-erade and raise a glass with us while you see our impact, and hear from community leaders, businesses and residents on
ways we are addressing challenges of 2020. We promise a unique experience as we have created new ways to for attendees to connect to each other and
our work!
Help us honor Brighton Main Streets'
2020 Volunteer of the Year, Stacie Regelman
2020 Business of the Year, Twelve Hours
And don't forget to get out your fanciest mask for the party. Whether it's bedazzled with jewels, made by a local artisan, or sporting your favorite
team, make a statement by showing off your mask, in true 2020 style.
Prize Drawing
As our way of saying Thank You for joining us, each attendee will automatically be entered into a drawing for a 3-Day Get Away to Martha's Vineyard in 2021!
Just purchase a ticket and tune in when we pick the winner at the livestream event.
Become a Sponsor
The funds raised at the Brighton Main Streets' 2020 Mask-erade will help fund programs throughout the upcoming year. Programs
that support the improvement of Brighton's neighborhood commercial district and quality of life in the community. We strive to enhance the appearance
of our stores, diversify the business mix and services in our community, keep our neighborhood clean, and promote Brighton as a destination within
the city of Boston while encouraging residents to support the local economy.
You don't have to be a business to be a sponsor. This year, we've made it easier for individuals and families to show their support of the community too.
Check out our 2020 sponsorship levels and benefits, and choose the one that's right for you.