BMS Workers Relief Fund: Applications Open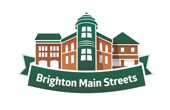 Through the generosity of Charlesview Inc., Brighthon Main Streets has established the Brighton Main Streets Workers Relief Fund. This $12,500 fund will
be used in an effort to provide support to any formerly Brighton employees. The grant will be rewarded in the form of a $250 VISA Gift Card and will
require no reporting back of any kind. If awarded, arrangements will need to be made for pick-up at our office located at 358 Washington St. in Brighton
Center.
Applications are available open on April 6th (click here for more information).