Brighton Main Streets received a $100,000 grant from the Boston College Neighborhood Improvement Fund in 2015 to install both a wayfinding kiosk and gateway signage in our business district. The gateway signage will beautify the Brighton business district and will help make the neighborhood an identifiable destination. The wayfinding kiosk in Brighton Center will help residents and visitors navigate the shopping district and raise awareness about local events with a community calendar.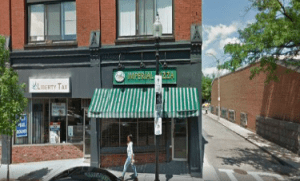 The project is currently in the design phase, having just conducted community meetings to get feedback from the neighborhood. The kiosk was completed and installed in 2019 and is currently offline. The gateway signs will be constructed and installed at later date, in conjunction with a separate follow up project to be determined.
Phase 1: Interactive Kiosk Design build and install an interactive, digital kiosk in the center of the Brighton Main Streets Business District to: build a central identifier for Brighton, promote and locate businesses in the district, provide information on events and businesses as well as dining options in the neighborhood, and assist in wayfinding for the neighborhood by providing an interactive map.
Phase 2: District Gateway Signage Design two dynamic gateways at the East and West entrances to the Brighton Main Streets business district to: build and promote identifiers for Brighton, create a unique, dynamic and artistic gateway into the district, and align with the energy of the neighborhood.
Preliminary proposals place signage on the traffic islands on both ends of the business district, at Oak Square on one end and at St. Josephs on the other. At a more central location, the interactive kiosk is proposed to be located at the corner of Washington and Market Streets.
Download the complete presentation with the latest details on placement, construction and functionality of the interactive kiosk as well as preliminary BRIGHTON sign designs and placements.
Learn more about other Brighton Main Streets programs and how you can help keep our community vibrant, fun, and growing!
Fill out the form below and well connect to continue the conversation!